Kerrigan Byrne is a new-to-me-author but I have read some excellent reviews of this book.
Source: Purchased from Amazon Kindle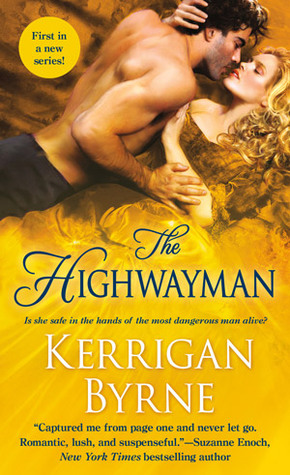 (Victorian Rebel, #1)
Genre: Historical Romance (Victorian)
Cover Blurb:
They're rebels, scoundrels, and blackguards—dark, dashing men on the wrong side of the law. But for the women who love them, a hint of danger only makes the heart beat faster…
STEALING BEAUTY
Dorian Blackwell, the Blackheart of Ben More, is a ruthless villain. Scarred and hard-hearted, Dorian is one of London's wealthiest, most influential men who will stop at nothing to wreak vengeance on those who've wronged him…and will fight to the death to seize what he wants. The lovely, still innocent widow Farah Leigh Mackenzie is no exception—and soon Dorian whisks the beautiful lass away to his sanctuary in the wild Highlands…
COURTING DESIRE
But Farah is no one's puppet. She possesses a powerful secret—one that threatens her very life. When being held captive by Dorian proves to be the only way to keep Farah safe from those who would see her dead, Dorian makes Farah a scandalous proposition: marry him for protection in exchange for using her secret to help him exact revenge on his enemies. But what the Blackheart of Ben More never could have imagined is that Farah has terms of her own, igniting a tempestuous desire that consumes them both. Could it be that the woman he captured is the only one who can touch the black heart he'd long thought dead?
♥♥♥♥♥♥
I have recently become a huge Monica Burns's fan.
Source: Purchased from Amazon Kindle
(The Reckless Rockwoods, #3)
Genre: Historical Romance (Victorian)
Cover Blurb:
WARNING: Book contains a proud Highlander unwilling to surrender his heart a second time, and a half-Scottish heroine who, like most Rockwoods, is up to the challenge of making her man realize she's The Highlander's Woman.
Julian MacTavish's honor made him guard a friend's secret. But his lies to keep that vow make it difficult to prove his faithfulness as a husband. When a terrible inferno scars Patience's body and mind, she becomes a recluse, widening the divide between them. But it's her lack of trust, not her disfigurement, which sends Julian home alone to Scotland convinced he's lost her forever.
Forgiveness in the face of death comes easily to Patience MacTavish, but the thought of being a burden to her husband does not. When a twist of fate takes Julian's sight from him, Patience returns home hoping to make amends for not having faith in him. Pity is the last thing Julian wants from anyone, especially his wife, and it's his turn to question her sincerity. Now, Patience must convince her husband that she's come home for no other reason than love, even if it means arranging a highlander's seduction.
♥♥♥♥♥♥
Anna Campbell is one of my favourite authors and I'm looking forward to reading this first book in her new Dashing Widows series.
Source: Received from the author in return for an honest review
(Dashing Widows, #1)
Genre: Historical Romance (Regency)
Cover Blurb:

For this reckless widow, love is the most dangerous game of all.
Caroline, Lady Beaumont, arrives in London seeking excitement after ten dreary years of marriage and an even drearier year of mourning. That means conquering society, dancing like there's no tomorrow, and taking a lover to provide passion without promises. Promises, in this dashing widow's dictionary, equal prison. So what is an adventurous lady to do when she loses her heart to a notorious rake who, for the first time in his life, wants forever?
Devilish Silas Nash, Viscount Stone is in love at last—with a beautiful, headstrong widow bent on playing the field. Worse, she's enlisted his help to set her up with his disreputable best friend. No red-blooded man takes such a challenge lying down, and Silas schemes to seduce his darling into his arms, warm, willing and besotted. But will his passionate plots come undone against a woman determined to act the mistress, but never the wife?
♥♥♥♥♥♥
I have some of the books in the Windham series but, as I am a stickler for reading a series in order, I needed to buy these two Prequel Novellas to read first.
Source: Purchased from Amazon Kindle
(Windham, #0.05)
Genre: Historical Romance (Regency)
Cover Blurb:
The first novella to be published by New York Times bestselling author Grace Burrowes features the foundation story for her bestselling series. This is the tender story of love tested and won, and how Percy Windham, the dashing and brilliant man who was never supposed to become the Duke of Moreland, wooed the amazing lady who became his beloved Duchess.
Percival Windham is a second son, and a cavalry officer acclaimed and respected by his men. He is immensely attractive and distracts himself with the women who seem to throw themselves at him at every turn, until at a country house party, he meets beautiful, retiring Esther Himmelfarb. Esther's wealthier relations are taking shameless advantage of her dependence on them, and only Percy seems to see the striking intelligence beneath her modest demeanor. Percy sees her as the perfect companion and she finds in him the man of her dreams.
(Windham, #0.06)
Genre: Historical Romance (Regency)
Cover Blurb:
Percival and Esther Windham had to beat the odds and face down gossip when their brief courtship resulted in marriage. Five years later, they have four children in their nursery, a ducal estate to care for, ailing family members needing care, and more trouble on the horizon than even a strong marriage might endure.
♥♥♥♥♥♥
I have wanted to read Meredith Duran for sometime and was delighted to win a paperback copy of this book as a Giveaway Prize.
Source: A Giveaway Prize
(Rules for the Reckless, #3)
Genre: Historical Romance (Victorian)
Cover Blurb:
The third searing novel in the Rules for the Reckless series by Meredith Duran, the USA Today bestselling author of sexy and evocative Regency romances in the tradition of Sarah MacLean.
Catching the Lady Red-Handed
Born to a family of infamous criminals, Lilah Marshall has left behind her past and made herself into the perfect lady. Working as a hostess at Eveleigh's, London's premier auction house, she leads a life full of art, culture, and virtue. All her dreams are within reach—until a gorgeous and enigmatic viscount catches her in the act of one last, very reluctant theft.
Chasing One Red-Hot Passion
Christian "Kit" Stratton, Viscount Palmer, is society's most dashing war hero. But Kit's easy smiles hide a dark secret: he is haunted by a madman's vow to destroy anyone he loves. When his hunt for the enemy leads to Everleigh's Auction Rooms, he compels Lilah to help him. But one tempting touch may be their undoing—for what Kit needs threatens all Lilah holds dear, and losing her may destroy Kit.
♥♥♥♥♥♥