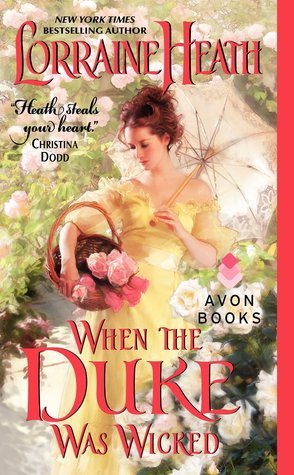 (Scandalous Gentlemen of St. James, #1)
Genre: Historical Romance (Victorian)
Cover Blurb:
They are England's most eligible bachelors, with the most scandalous reputations. But for the right woman, even an unrepentant rogue may mend his ways…
Lady Grace Mabry's ample inheritance has made it impossible for her to tell whether a suitor is in love with her—or enamored of her riches. Who better to distinguish beau from blackguard than her notorious childhood friend, the Duke of Lovingdon?
With no interest in marriage, Lovingdon has long lived only for pleasure. He sees little harm in helping Grace find a proper match. After all, he's familiar with all the ploys a scoundrel uses to gain a woman's favor. He simply has to teach the lovely innocent how to distinguish honest emotions from false ones. How better than by demonstrating his wicked ways. But as lessons lead to torrid passion and Grace becomes ensnared in another man's marriage plot, Lovingdon must wage a desperate gamble: Open his heart fully—or risk losing the woman he adores…
♥♥♥♥♥♥
THE SCOUNDRELS OF ST. JAMES remains my favourite Lorraine Heath series and I have been looking forward to reading the stories of their offspring in SCANDALOUS GENTLEMEN OF ST. JAMES. The protagonists in the first book are Henry, Duke of Lovingdon, Olivia's son from BETWEEN THE DEVIL AND DESIRE and Lady Grace Mabry, Frannie and Sterling's daughter from SURRENDER TO THE DEVIL.
I loved this book! Lorraine Heath weaves such a beautiful, deeply emotional and moving love story.
Lovingdon –

Lovingdon had once been a man above reproach but that was before he was totally devastated by the death of his wife and daughter from typhus. Lost in guilt, grief and remorse, he has become little more than a hollow shell…a hardened rake living a life of debauchery. My heart went out to Lovingdon. He had always been honourable and good but, when the two people he treasured the most were taken away, he felt that fate was in some way punishing him and I could understand his reactions perfectly.
I was brought up to believe that we were rewarded according to our behavior. Yet the Fates had conspired to punish me, to take away that which I treasured above all else, and I could find no cause for their unkind regard.
And so I said to hell with it all. I would sow the wild oats I had not in my youth. I would gamble, I would drink, I would know many women.
The pain and grief he suffered was so great, he knew he could never face that sort of loss again…he could never love again.
Lady Grace Mabry –

Grace is such a wonderful heroine…lovely, charming, kind but also bold, clever and determined.  She also drinks, steals her father's cigars and cheats at cards. Hardly surprising given where her mother grew up and her associates!  She has also suffered a terrible loss, something known only to her immediate family but, rather than retreating from life like Lovingdon, she has chosen to embrace it. She dreams of marrying a man who truly loves her for herself, imperfections and all.
The romance between Grace and Lovingdon evolved so beautifully…full of poignant, heart-breaking and heart-warming moments and I'm sharing some of my favourites.
She was Lady Grace Mabry, lover of kittens, thief of biscuit tins , and climber of trees. What the devil was he doing thinking of her wrapped in silk sheets?
He could imagine it. Vividly. Too vividly. Her skin flushed with the fire of passion. Her lips plump from pressure. Her gaze smoldering with blazing desire. He imagined taking her mouth, burning his brand on her soul.
He wished he could reach past the shards of his broken heart and find a fragment of love that remained unclaimed that he could offer her, but she deserved so much more than a scrap. She was worthy of a whole of a heart and then some.
Dear God, he'd certainly felt dead these past two years. Until this marvelous woman had knocked on his bedchamber door . Until she challenged him and irritated him . Until she'd shown him what it was to want, to desire, to dream of something grand that would last a lifetime .
I don't want to give too much away about the nature of Grace's secret but I admire Ms Heath for introducing an issue which I have never seen in historical romance before. It added another layer to Grace's character and the scene where she reveals her secret to Lovingdon and his acceptance of her was so moving.
I enjoyed the glass-blowing scene where Grace's descriptions of the processes evoke all sorts of erotic thoughts in Lovingdon's mind! I love the card game at Dodger's Drawing Room, which introduces all the other 'scandalous gentlemen' and gives some insight into these future heroes of the series. It was a nice touch when Grace gives the password 'Feagan' to gain entry to the gaming hell…a reference to the 'kidsman' in the original series.
The other secondary characters that really stood out were Grace's parents, Frannie and Sterling, who obviously love her very much. They never try to rein her in and are always supportive.
There is an emotional Epilogue and the final words Lovingdon writes in his journal are truly beautiful and romantic.
Once again, Ms Heath delivers a captivating and emotionally satisfying love story and I will certainly be reading the other books in the series. You don't have to have read THE SCOUNDRELS OF ST. JAMES to enjoy this series but it would be a pity to miss such wonderful books.
REVIEW RATING: 5/5 STARS
SENSUALITY RATING: HOT

Read October 2014
The Scandalous Gentlemen of St. James so far (click on covers for more details):

– 28 April 2015