When I finished reading LADY BE GOOD, I had to buy this book!
Source: Purchased from Amazon Kindle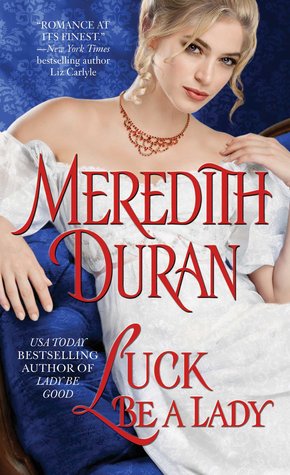 ( Rules for the Reckless, #4)
Genre: Historical Romance (Victorian)
Cover Blurb:
Romance sizzles between a famous heiress and an infamous crime lord in this fourth sexy novel in the Rules for the Reckless series from the USA Today bestselling author of Fool Me Twice.
The Wallflower
They call her the "Ice Queen." Catherine Everleigh is London's loveliest heiress, but a bitter lesson in heartbreak has taught her to keep to herself. All she wants is her birthright—the auction house that was stolen from her. To win this war, she'll need a powerful ally. Who better than infamous and merciless crime lord Nicholas O'Shea? A marriage of convenience will no doubt serve them both.
The Crime Lord
Having conquered the city's underworld, Nick seeks a new challenge. Marrying Catherine will give him the appearance of legitimacy—and access to her world of the law-abiding elite. No one needs to know he's coveted Catherine for a year now—their arrangement is strictly business, free from the troubling weaknesses of love. Seduction, however, is a different matter—an enticing game he means to ensure she enjoys, whether she wishes to or not…
♥♥♥♥♥♥
I recently read the prequel novella and this promises to be a delightful and entertaining series.
Source: Purchased from Amazon Kindle
(Moonlight Square, #1)
Genre: Historical Romance (Regency)
Cover Blurb:
Romance is in the air at Moonlight Square ~ Regency London's most exclusive address! 
Jason Hawthorne, the Duke of Netherford, made it clear to the young, lovesick Felicity Carvel long ago that nothing could ever happen between them. He has earned his reputation as the Duke of Scandal–and she's his best friend's little sister. For honor's sake, he vows to stay away from the lovely innocent. But six years of the wealthy libertine's life have left Jason empty and jaded, while Felicity has blossomed into a strong, beautiful woman, ripe for love and marriage.
When a sudden windfall makes her one of the most sought-after heiresses in London, chased all over Town by fortune-hunters, Jason knows he must keep the rogues at bay until her brother returns from his dangerous mission abroad. Unfortunately, the scandalous attraction between them has only grown to a searing intensity. Deep down, Felicity still wants Jason for her own. But after getting her heart broken once before by Naughty Netherford, does she dare attempt to play with fire again–and this time, can Jason resist?
♥♥♥♥♥♥
Although this is not traditional Historical Romance, I decided to add it to my bookshelf because I have always enjoyed Nicola Cornick's writing. (expected publication date 5th November 2015)
Source: Received from the publisher via NetGalley in return for an honest review
Genre: Timeslip
Cover Blurb:
London, 1662:
There was something the Winter Queen needed to tell him. She fought for the strength to speak.
'The crystal mirror is a danger. It must be destroyed – '
He replied instantly. 'It will'.
Ashdown, Oxfordshire, present day: Ben Ansell is researching his family tree when he disappears. As his sister Holly begins a desperate search, she finds herself inexplicably drawn to an ornate antique mirror and to the diary of Lavinia, a 19th century courtesan who was living at Ashdown House when it burned to the ground over 200 years ago.
Intrigued, and determined to find out more about the tragedy at Ashdown, Holly's only hope is that uncovering the truth about the past will lead her to Ben.
For fans of Barbara Erskine and Kate Morton comes an unforgettable novel about three women and the power one lie can have over history!
♥♥♥♥♥♥