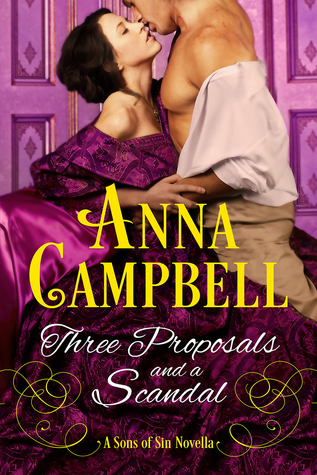 (Sons of Sin, #4.5)
Genre: Historical Romance (Regency)
Cover Blurb:
Whose hot kisses will melt the ice princess? All London is agog to know!
As the season reaches its brilliant climax, three very different men pursue beautiful Lady Marianne Seaton. She's the marriage mart's greatest prize – even if cruel and unjust gossip paints her as a woman cold and glittering as any diamond.
Lord Desborough is her father's choice – rich, powerful, safe. Lord Tranter is society's darling – handsome, dashing, charming.
Then there's the dangerous, compelling man nobody in their right mind calls eligible. Elias Thorne, son of scandal, reputed deceiver, possessing a rakish fascination no woman can resist. A lady might choose Elias as a lover, but as a husband, he's too risky a bet. Even if Marianne's forbidden yearning for him threatens her future and her reputation.
When Marianne's suitors pursue her to the year's most glamorous house party, there will be proposals and passion, rivals and revelations, secrets and scandals.
Let the battle commence – but will the best man win?
♥♥♥♥♥♥
Once again, Anna Campbell lives up to all my expectations with this captivating love story. Even though a novella, it still packs plenty of passion, romance and drama.
I really felt sympathetic towards Marianne. She had weathered the storm of being jilted by the Duke of Sedgemoor with dignity, despite the nasty gossip that circulated about her. Now her father has issued an ultimatum that she must marry one of her two suitors.
I disliked her father intensely. He has always demanded unquestionable obedience from his daughter, caring nothing for her own wishes or happiness.
Her martinet of a father had done his best to teach her unquestioning duty, to bring up a compliant doll.
He sees her simply as a means of furthering his own financial and political ambitions through a marriage to the influential Lord Desborough. Marianne hides her insecurities and unhappiness beneath a veneer of impeccable manners and exemplary behaviour.
Elias is such a wonderful hero. When he and Marianne first met, he glimpsed a warm, intelligent woman with a generous heart and not the "cold fish", society perceives her to be. It's refreshing to see a hero who is head over heels in love with the heroine and willing to fight for her whatever the obstacles. With a family that's a byword for scandal and an older brother who was a complete wastrel and died leaving the Thorne estate in dire financial straits, the dice seem firmly stacked against Elias. He has to overcome a belligerent Marianne…
Her lips curled with scorn. "We can all be jolly together, me with my handsome fortune hunter and you with all my lovely golden guineas."
as well as her angry father and his rival suitors.
I enjoyed watching Marianne discover what she really wants in life and finally acknowledging her feelings for Elias and cheered her determination to defy her father and marry Elias.
Anna Campbell's love scenes are always steamy but they are far more than just sex. She conveys the deep emotional connection between the characters and I love the tenderness and obvious love that shines through in moments like this.
"Are you all right?" He brushed her tumbled hair back from her face with a tenderness that made her bare toes curl.
She managed a weary, contented smile. "Absolutely wonderful."
Elias dipped his head and kissed her with a sweetness all the more profound for the passion that preceded it. When he pulled away, she looked into his eyes and wondered how she'd ever questioned that he loved her.
I really like Lord Desborough. He's a good man and I wholeheartedly agree with Sidonie…
"He needs to find a nice woman past first youth who will appreciate his qualities as a man, rather than his appeal as a marital catch."
When Lord Tranter finally shows his true colours, what a truly nasty piece of work he is!
Jonas and Sidonie and Richard and Genevieve, characters from the previous books, make a welcome appearance and play an active role in bringing Elias and Marianne together. I also love the banter between Richard and Jonas.
The Epilogue provides a delightful glimpse of Elias and Marianne with their children and ties up some of the story threads most satisfactorily.
My Verdict: Another worthy addition to this excellent series. Definitely recommended!
REVIEW RATING: 5/5 STARS
SENSUALITY RATING: HOT
Read July 2015
The Sons of Sin series (click the covers for more details):

My sincere thanks to Anna Campbell for sending me a complimentary copy of this book in return for an honest review
♥♥♥♥♥♥♥♥♥♥♥♥
THIS GIVEAWAY IS NOW CLOSED
Anna is generously giving away 3 ebook copies of THREE PROPOSALS AND A SCANDAL. Just leave a comment to enter the Giveaway.
The Giveaway will close at midnight (GMT) on Sunday 19th July.
BUY LINKS:
Amazon.com
Amazon.co.uk
Smashwords
B&N