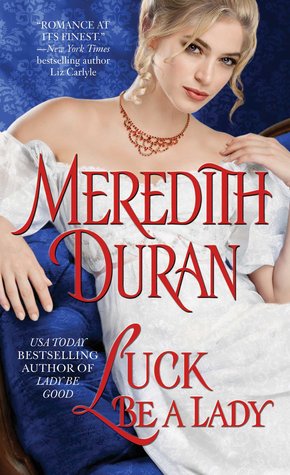 (Rules for the Reckless, #4)
Genre: Historical Romance (Victorian)
Cover Blurb:
Romance sizzles between a famous heiress and an infamous crime lord in this fourth sexy novel in the Rules for the Reckless series from the USA Today bestselling author of Fool Me Twice.
They call her the "Ice Queen." Catherine Everleigh is London's loveliest heiress, but a bitter lesson in heartbreak has taught her to keep to herself. All she wants is her birthright—the auction house that was stolen from her. To win this war, she'll need a powerful ally. Who better than infamous and merciless crime lord Nicholas O'Shea? A marriage of convenience will no doubt serve them both.
Having conquered the city's underworld, Nick seeks a new challenge. Marrying Catherine will give him the appearance of legitimacy—and access to her world of the law-abiding elite. No one needs to know he's coveted Catherine for a year now—their arrangement is strictly business, free from the troubling weaknesses of love. Seduction, however, is a different matter—an enticing game he means to ensure she enjoys, whether she wishes to or not…
♥♥♥♥♥♥
After reading Lady Be Good, I was certainly interested in two of the secondary characters, the beautiful but icy Catherine Everleigh and the ruthless ruler of Whitechapel, Nicholas (Nick) O'Shea. Neither came off as particularly likeable in that book and I was intrigued to see how Ms Duran could not only change my mind about them, but also create a believable romance between two such dissimilar characters both in temperament and social standing.
I like Ms Duran's effective use of the Prologue to provide insight into Catherine and Nick's childhoods. This gave me a better understanding of the influences at play in shaping the people they became.
From a very young age, Catherine's life has revolved around Everleigh Auction House, the family business. She is smart for her age and her father has encouraged and developed her interest in art and antiques to the exclusion of all else. It is a lonely childhood with normal childhood experiences discouraged and no friends. My heart went out to her when she looks out of the window to watch two girls laughing and skipping and convinces herself that she doesn't need friends when…
She got to come to her father's auction rooms. No other children were allowed at Everleigh's. Being here made her special.
Now an expert in the field of art and antiques, Catherine is proud of her business achievements and the auction house has become her life, albeit a lonely one. She has no time for socialising and no interest in fashions, the latest gossip or the latest novels. She and her brother, Peter, have each inherited a half-share in Everleigh's but Catherine will not acquire control over her share until she marries. In the meantime, her brother controls everything and she is aware that he has been embezzling money from the business to fund his political ambitions and now he is threatening to sell the business. She is desperate to gain control of her share to thwart his plans but the only solution is to marry and…
She knew just the man to bring Peter to heel. All it would require of her was a great deal of…and a reckless disregard for decency and the law.
– the notorious Nick O'Shea.
The letters that pass between Catherine and Nick, when she tries to arrange a meeting with him to discuss her proposition, are not only funny but also cleverly supply details of the circumstances under which they first met.
Forced to fend for himself on the streets of the east end of London at the age of eleven, Nick has clawed his way up to become the wealthy, notorious and powerful crime lord who controls Whitechapel, one of roughest parts of the east end. Despite his reputation, most of the things he has achieved have been through hard work, determination and a keen business mind. The income from his gambling palace and legitimate businesses have meant he is no longer involved in petty crime.
Nick is the sort of hero I adore…rough around the edges but a good man at heart. He truly cares about the weak and vulnerable of Whitechapel and rules through respect rather than fear.
Once this quarter of Whitechapel had looked different— violent, ugly, choked with rubbish. But now it boasted orderly streets, solid tenements, quiet nights, and schools with no seats to spare.
When Catherine puts her "marriage of convenience" proposal to Nick, she never dreams that he has been watching her for years and also sees it as an opportunity to further his own goals.
"I take it that you're a cynic in matters of love."
"In every matter, sweetheart."
"Good. So am I." "Why, we're a perfect match, then."
Cynical they may be but I knew that eventually they would succumb to cupid's arrow, but it is their journey that kept me captivated. To ensure that the marriage cannot be challenged by Catherine's brother, it has to be consummated and this scene is both amusing and highly sensual and we discover exactly what is in the package Catherine is carrying!
I enjoyed seeing each of them grow and change during the course of the story. Despite his reputation, Catherine comes to realise that Nick is an honourable, kind and decent man who genuinely cares about the people of Whitechapel. I love how Nick listens to Catherine, respects her opinions, treats her as an equal and never questions her right to work. Nick stirs Catherine's latent passions and Catherine makes Nick see that he has the ability to fulfil his ambitions.
… she had a way of leading him into dreaming. She made him imagine, hope for, ideas and realities he'd never himself known.
Peter, Catherine's brother, is a truly nasty piece of work but I love the lengths Nick will go to protect Catherine and enjoyed seeing him scare the hell out her odious brother!
MY VERDICT: A beautifully written story with layered, complex characters and real emotional pull. One I can definitely recommend.
REVIEW RATING: 5/5 STARS
SENSUALITY RATING: WARM
Read July 2016

Rules for the Reckless series (click on the book cover for more details):