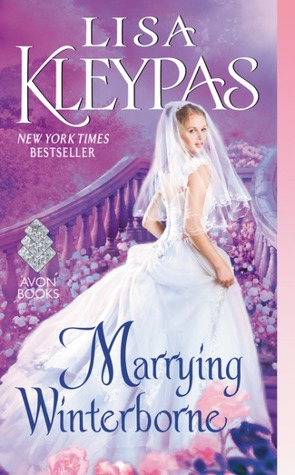 (The Ravenels, #2)
Genre: Historical Romance (Victorian)
Cover Blurb:
A ruthless tycoon
Savage ambition has brought common-born Rhys Winterborne vast wealth and success. In business and beyond, Rhys gets exactly what he wants. And from the moment he meets the shy, aristocratic Lady Helen Ravenel, he is determined to possess her. If he must take her virtue to ensure she marries him, so much the better . . .
A sheltered beauty
Helen has had little contact with the glittering, cynical world of London society. Yet Rhys's determined seduction awakens an intense mutual passion. Helen's gentle upbringing belies a stubborn conviction that only she can tame her unruly husband. As Rhys's enemies conspire against them, Helen must trust him with her darkest secret. The risks are unthinkable . . . the reward, a lifetime of incomparable bliss. And it all begins with…
Marrying Mr. Winterborne
♥♥♥♥♥♥
After being somewhat disappointed by Cold-Hearted Rake, I LOVED this book! It reminded me in so many ways of the wonderful Wallflowers and Hathaways series.
My Rhys Winterborne
Ms Kleypas writes some of the dreamiest self-made heroes in Historical Romance and I'm adding Rhys Winterborne to that illustrious list. I love how, from the moment he meets Helen, this big, arrogant, ruthless Welshman is totally crazy about her and complete putty in her hands.
He had always enjoyed women casually, sampling their favors with relaxed ease. Not one of them had ever caused this aching craving that Helen seemed to have unlocked from the center of his soul.
My Lady Helen Ravenel
Helen reminds me so much of Evie in The Devil in Winter. At first, she appears sweet and shy but soon reveals an inner strength and I love how she is more than a match for Rhys in her own quiet, determined way. She knows who and what she wants and is bold enough to go after it.
He was no Byron, no poetry-spouting connoisseur of seduction. He was a Welshman with stamina. As for techniques and romance— well, obviously that was best left to the French.
In fact, Rhys is surprisingly romantic and I love how he treats Helen with total adoration; woos her and shows such tenderness and caring. The scene where he shows her his special gift is just beautiful and utterly romantic. It had me sighing dreamily. I love his reaction when Helen shares her darkest secret with him, believing he wouldn't want her anymore. It made me love him even more.
Ms Kleypas's love scenes are sensual but also full of emotion and tenderness.
No matter how long he stared at Helen, he couldn't have his fill. Every detail of her struck fresh notes of pleasure in him: the supple lines of her body, the pretty curves of her breasts. The white-blonde hair that spilled and streamed over his forearm, catching light as if it were liquid. And most of all her face, innocent in sleep, bereft of its usual composed mask. The wistful softness of her mouth went straight to his heart. How was it that he could hold her so close and still want more of her?
Helen's combination of naivety and burgeoning boldness is so endearing and I love Rhys's down-to-earth answers and explanations.
I enjoyed all the smaller details we discover like Helen's love of orchids and Rhys's love of peppermint creams (a favourite of mine too). Living in Wales, I adore the Welsh endearments Rhys uses like "Cariad" and "Bychan" and, being English, I appreciated the glossary provided in the Author's Note.
There is a wonderful cast of secondary characters who enrich the story and are all deserving of their own stories. There is West who has renounced his former rakish ways in favour of muddy boots and breeches; the quirky, irrepressible twins Pandora and Cassandra; Rhys's enigmatic friend Severin and Dr. Garrett Gibson, determined to succeed in a male dominated profession and provides one of the best quotes in the book:
"This is Mr. Winterborne. The one with the department store. He needs to be treated by a real physician with experience and proper training, not to mention—"
"A penis?" she suggested acidly. "I'm afraid I don't have one of those. Nor is it a requirement for a medical degree. I am a real physician, and the sooner I treat Mr. Winterborne's shoulder, the better it will go for him."
Ms Kleypas captures the Victorian world perfectly, painting vivid images, whether it be clothing, food, Rhys's department store or the grimy London tenements.
Like everyone else, I'm so excited about the next book, Devil in Spring, which features Pandora as the heroine and I think it's common knowledge among Lisa Kleypas fans that the hero of this book is Gabriel, Lord St. Vincent, Sebastian and Evie's (The Devil in Winter) son. I love the idea of revisiting favourite characters from The Wallflowers series and I'm hoping that Gabriel will be "a chip off the old block". Unfortunately, I will have to wait until 21st February 2017 to find out.
MY VERDICT: A captivating, romantic and passionate love story, wonderful characters and lyrical, evocative writing make this a must read for anyone who loves Historical Romance. Highly recommended!
REVIEW RATING: 5/5 STARS
SENSUALITY RATING: WARM
Read June 2016
The Ravenels series so far (click on the book covers for more details):

3. Devil in Spring – 21st February 2017