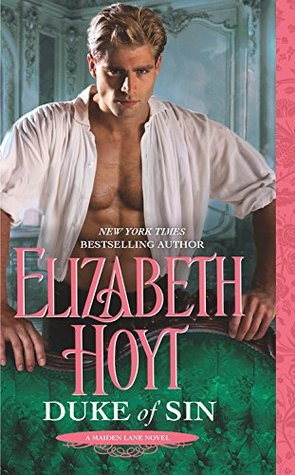 (Maiden Lane, #10)
Genre: Historical Romance (Georgian)
Cover Blurb:
A MAN OF SIN
Devastatingly handsome. Vain. Unscrupulous. Valentine Napier, the Duke of Montgomery, is the man London whispers about in boudoirs and back alleys. A notorious rake and blackmailer, Montgomery has returned from exile, intent on seeking revenge on those who have wronged him. But what he finds in his own bedroom may lay waste to all his plans.
A WOMAN OF HONOR
Born a bastard, housekeeper Bridget Crumb is clever, bold, and fiercely loyal. When her aristocratic mother becomes the target of extortion, Bridget joins the Duke of Montgomery's household to search for the incriminating evidence-and uncovers something far more dangerous.
A SECRET THAT THREATENS TO DESTROY THEM BOTH
Astonished by the deceptively prim-and surprisingly witty-domestic spy in his chambers, Montgomery is intrigued. And try as she might, Bridget can't resist the slyly charming duke. Now as the two begin their treacherous game of cat and mouse, they soon realize that they both have secrets-and neither may be as nefarious-or as innocent-as they appear . . .
PUBLICATION DATE: 31st May 2016
♥♥♥♥♥♥
This is the tenth book in Elizabeth Hoyt's Maiden Lane series and I have so much admiration for her ability to continue to give readers stories that are unique and engrossing; characters that are complex and fascinating, and romances that are erotic and sensual.
"Never mistake me for the hero of this tale, for I am not and shall never be. I am the villain."
I have been fascinated by Valentine Napier, Duke of Montgomery, ever since his first appearance in DUKE OF MIDNIGHT and I was intrigued to know how Ms Hoyt would set about redeeming such an anti-hero. He may be handsome, sophisticated and charming but he is also vain, amoral, unscrupulous, unpredictable and an evil, scheming blackmailer with a desire for power over people.
Although the bastard daughter of an aristocratic lady, Bridget Crumb's birthmother has ensured she was brought up in a foster home in the country. When Bridget decides to find employment in London, her mother has also provided her with references enabling Bridget to gain employment as a housekeeper. At the age of twenty-six, she is now regarded as the best housekeeper in London. She is competent, down-to-earth and loyal but rather plain and prim.
Val finds himself attracted by Bridget's very normality which is in sharp contrast to his own mercurial nature. He is also impressed and aroused by her refusal to be intimidated by him, something he is not used to.
…she didn't seem cowed by either his silence or his stare. She held her head high and she met him stare for stare, her eyes dark and intense and oddly arousing. Really, she was very self-possessed for a housekeeper when one came to think about it.
Against her better judgement Bridget is attracted to Val and I can see why she might find it hard to resist someone so delightfully wicked. He has no qualms about talking to his housekeeper while completely starkers and saying the most outrageous things.
"Oh, Mrs. Crumb, such a look," he murmured, his voice a deep purr, his bare chest brushing against her snowy white apron. "Why, I don't know whether to guard my bollocks . . ."—his gaze dropped to her mouth—"or to kiss you."
There's oodles of sexual tension between these two and the love scenes are definitely HOT (in fact I think they are steamier than any I've read so far in the series) and I love how Bridget reveals that she isn't quite so prim!
I love seeing the little glimmers of hope that Val isn't completely irredeemable. His sister Eve has always been a chink in his formidable armour and the scene where he confronts Asa, after discovering they are getting married, shows just how much he cares for her and wants to protect her. He also rescued an Arab youth, Mehmed, from a terrible fate on his travels abroad and bought him back to England as his second valet. Mehmed also provides some amusing moments with his broken English.
When Val tells Bridget of his childhood experiences at the hands of a sadistic, depraved father and a mother who hated him, it is easy to understand how Val could have become so damaged…so flawed and believing himself incapable of love. He no longer has any concept of what is right or wrong; he does what he likes, when he likes without any conscience. Only Bridget sees the real Val and knows he can be a better man. She becomes his moral compass, but he only realises this when she leaves him…
Fair Seraphine had tried to explain to him the difference, right from wrong. It made sense to her because she burned and was an angel. But to him, a creature of hollow ice and pain, it was sound and confusion without her to filter it for him.
When Bridget's life is in danger, he finally has to make a choice between good and evil, knowing the action he decides to take may lose him Bridget's love forever. For the first time, he puts someone else first, regardless of any personal cost. It is this more than anything that made me believe that Val is truly redeemable. It won't happen overnight but I feel that with Bridget by his side, he has every chance of becoming a better man. The scene where he says he loves Bridget is a such an emotional one.
We learn more about the notorious Lords of Chaos and their evil pursuits and a new character, Hugh Fitzroy, the Duke of Kyle, makes his appearance. As the cover blurb for the forthcoming DUKE OF PLEASURE (29th November 2016) is available to read on Amazon's site, I don't think I'm giving away any spoilers by saying that Hugh is the hero to Alf's heroine and expect the return of a certain masked crusader.
The Epilogue provides further proof that Val has definitely changed for the better but I love that he is still  wicked in certain ways. 😉
Val hasn't quite managed to topple Charming Mickey off his pedestal as my favourite hero of the series, but he ties with Winter Makepeace as a close second!
MY VERDICT: What can I say other than this is another outstanding addition to this fabulous series. I can highly recommend both the book and the series!
REVIEW RATING: 5/5 STARS
SENSUALITY RATING: HOT!
Read April 2016
The Maiden Lane series so far (click the book cover for more details):
 – 29th November 2016
**I received an ARC from the publisher via NetGalley in return for an honest review. **