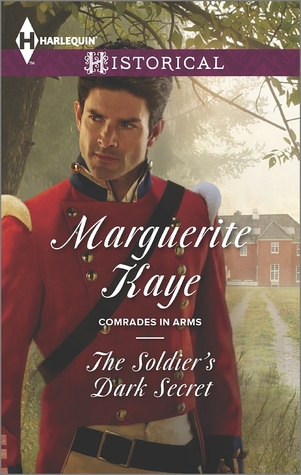 (Comrades in Arms, #1)
Genre: Historical Romance (Regency)
Cover Blurb:
The truth behind the hero.
Officer Jack Trestain may have been one of Wellington's most valued code-breakers but since Waterloo, he's hung up his uniform. If only he could just as easily put aside the tortured memories he carries deep within…perhaps enchanting French artist Celeste Marmion might be the distraction he so desperately craves.
Except Celeste harbours secrets of her own and questions that she needs Jack's help to solve! With Celeste's every touch an exquisite temptation, how close can Jack get without revealing his darkest secret of all?
♥♥♥♥♥♥
The Soldier's Dark Secret (Comrade in Arms #1) is an inspirational read from the talented pen of one of my favourite authors. Marguerite Kaye never disappoints and I am constantly amazed by her creative, captivating and original story lines. We could never accuse her of being boring, as no two books are the same and each one is better than the last.
Jack Trestain is an ex intelligence officer, one of Wellington's most valued code breakers, a brave one too, mentioned in dispatches and a truly honourable man with a conscience. He has a secret – a dark, dangerous secret, one that conjures up terrifying, tortuous nightmares, night after night, leaving him sleep deprived. Jack is a desperate to find peace but unable to, believing himself unworthy of love or forgiveness.
His salvation arrives in the form of an enchanting and beautiful French woman. Celeste Marmion has been commissioned by Jack's elder brother Charlie to paint some landscapes of their ancestral grounds and gardens. She has used this opportunity to travel to England in search of some answers to a devastating secret of her own. Their first meeting is unorthodox to say the least. Unable to sleep, Jack is in the habit of swimming in the lake in the early morning – without clothing. Celeste, on an early morning reconnaissance of the grounds, spots the intriguing Jack, and to begin with simply enjoys, with an artist's eye, the beauty of the man. Soon, however, she is aware that what she is doing could be interpreted as spying; indeed, she is also aware that she is actually enjoying the spectacle, that is until Jack turns an anguished face to the sky and Celeste sees the torment and suffering written on his face and makes an attempt to escape this deeply private moment…and fails.
The two get off to a bad start, but it doesn't take long before they become reluctant friends, with a burning attraction developing between them. Celeste is unafraid of Jack's black moods and, unlike his family, she stands her ground, challenging him and beginning to pick away at his defences. He is rattled by her ability to get beneath his skin, afraid to let her see his suffering, but still physically and mentally attracted to this beguiling young woman. Eventually Celeste confides, at least part of her story to Jack and it is with relief he is able to turn his mind to what he does best, unravelling secrets and breaking codes. Helping Celeste to search for the answers she has travelled to England for is something his analytical, if troubled mind, CAN do. He has a purpose again, not only will he be able to help Celeste – and he desperately wants to – but he can also discourage her from delving into his own deeply disturbing thoughts.
I love the way Ms. Kaye slowly builds the attraction between her characters – sensuously, sizzling and oh so sexy! Nothing too physical happens until well into Jack and Celeste's story but the air is electric and when it does happen it jumps off the page.
The sheer amount of historical research that has gone into this novel is breath-taking; a fascinating but never boring history lesson (which I love) wrapped up in a beautifully sensitive love story. I have no doubt that the facts about Waterloo and the enigmatic, if egotistical Wellington, are as accurate as Marguerite Kaye's thorough research can make them. Jack is obviously suffering from PTSD. Again I can only guess at the amount of reading Ms. Kaye did in order to make his condition as authentic as possible, without being able to tell us what it is he is suffering from, a condition undiagnosed at that time in history. The plot is intricate, clever, and interesting; the soldier really DOES have a dark secret and Celeste's tale is fascinating and the unravelling of it all intelligently and ingeniously achieved.
Altogether we have accurate history, scintillating romance and mystery and the artwork on the cover is perfect; a dark, brooding soldier in a red military uniform, I'm not sure if the jacket is absolutely correct but quite honestly I don't care, he looks the part and he looks like Jack.
MY VERDICT: A perfectly wonderful novel and I loved it…5 stars and highly recommended.

REVIEW RATING: 5/5 STARS
SENSUALITY RATING: HOT
Read January 2015

Comrades in Arms series (click on the book cover for further details):
I received a complimentary copy of  the book from the author in return for an honest review.