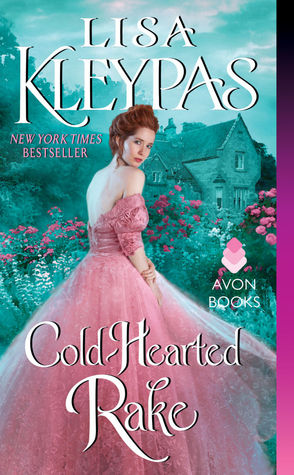 (The Ravenels, #1)
Genre: Historical Romance (Victorian)
Cover Blurb:
A twist of fate…
Devon Ravenel, London's most wickedly charming rake, has just inherited an earldom. But his powerful new rank in society comes with unwanted responsibilities . . . and more than a few surprises. His estate is saddled with debt, and the late earl's three innocent sisters are still occupying the house . . . along with Kathleen, Lady Trenear, a beautiful young widow whose sharp wit and determination are a match for Devon's own.
A clash of wills…
Kathleen knows better than to trust a ruthless scoundrel like Devon. But the fiery attraction between them is impossible to deny—and from the first moment Devon holds her in his arms, he vows to do whatever it takes to possess her. As Kathleen finds herself yielding to his skillfully erotic seduction, only one question remains:
Can she keep from surrendering her heart to the most dangerous man she's ever known?
♥♥♥♥♥♥
Like every other Lisa Kleypas fan, I have been waiting eagerly for this book, which heralds her return to writing historical romances after a gap of five years. Well, I have to confess that I had mixed feelings about the book. Some aspects I really enjoyed but others I found disappointing.
At first, Devon's actions seems to confirm him as totally heartless and selfish. He simply wants to be rid of his inherited responsibilities without any concern for those people his actions will affect, but gradually he comes to the realisation that…
The sword had been suspended above him from the moment he'd been informed of Theo's death. There was no choice to make. Whether or not he wanted the responsibility that came with the title, it was his.
The scene where he holds a weeping Kathleen shows that he is compassionate while dramatic events later in the story reveal a man willing to sacrifice himself for others.  However, the notorious Ravenel temper erupts on more than one occasion.
I love the funny exchanges with Kathleen when he is discussing his plans to modernise the plumbing at Eversby Priory.
"The plumbing is adequate," she said defensively.
One of his brows arched. "Sufficiently adequate for me to take a shower bath?"
She hesitated before admitting, "You won't have a shower bath."
"A regular bath, then? Lovely. What kind of modern vessel shall I find myself soaking in tonight? A rusted pail?"
Kathleen's high-handedness and rigid adherence to rules is irritating at times, but I understood how much she was influenced by her upbringing with Lord and Lady Berwick. I admire her genuine concern for the fate of the servants and tenants when she believes Devon intends to sell the estate, and her pluck in standing up to him.
"Welcome, my lord. And Mr. Ravenel. I will provide a list of the household inventory as soon as possible, so that you may loot and pillage in an organized fashion." Her voice was refined, the cut-glass syllables frosted with dislike.
Her willingness to look after her late husband's sisters shows a considerate and compassionate nature.
My main problem is that I never fully believed in the romance between Devon and Kathleen. It seems to lack coherence and there is no steady development of the relationship. In fact, they spend a good proportion of the book apart. I never felt there was a defining moment when I truly believed they were in love. Yes, there were some steamy love scenes but, for me, I didn't sense the deep emotional connection between them and I kept asking myself – Whatever happened to those heart-stopping, sigh-worthy moments that have always been such a memorable part of her books?  Even Devon's declaration of love failed to stir a little flutter in my heart.
I often found the secondary characters more interesting than the main ones.  I adore Devon's younger brother, Weston (West).  He has a major drinking problem but, when Devon puts him in charge of managing the tenants' drainage problems, he finds a purpose in life (after hearing some home truths from Kathleen) and becomes a sober, fit, hard-working man. There is an amusing scene where Devon goes to meet him at the station and fails to recognise him at first. I also liked the amiable relationship that develops between West and Kathleen.
I was definitely interested in the tentative romance between quiet Helen and ruthless, department store owner Rhys Winterborne, and I am seriously wondering how Ms Kleypas will redeem him in the next book, Marrying Winterborne, given his actions towards  the end of this book. Then I recall a certain St. Vincent who badly needed redeeming at the start of The Devil in Winter and look how he turned out!
I love the quirky, irrepressible twins Pandora and Cassandra, who reminded me in many ways of Beatrix Hathaway and, of course, not forgetting Hamlet, the pig!
MY VERDICT:  This may not be her best book but there were still many things I enjoyed about it and I certainly intend to read the rest of the series.
REVIEW RATING: 4/5 STARS
SENSUALITY RATING: HOT

Read November 2015
The Ravenels series so far (click on the book covers for more details):