Lisa Kleypas's long-awaited historical COLD-HEARTED RAKE is finally here!
Source: Purchased from Amazon Kindle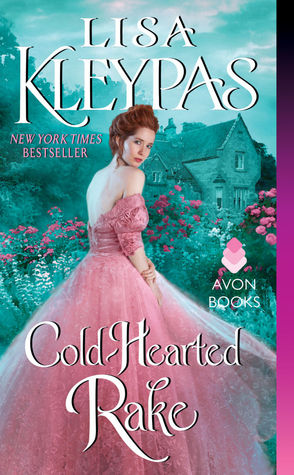 Genre: Historical Romance (Victorian)
Cover Blurb:
A twist of fate…
Devon Ravenel, London's most wickedly charming rake, has just inherited an earldom. But his powerful new rank in society comes with unwanted responsibilities . . . and more than a few surprises. His estate is saddled with debt, and the late earl's three innocent sisters are still occupying the house . . . along with Kathleen, Lady Trenear, a beautiful young widow whose sharp wit and determination are a match for Devon's own.
A clash of wills…
Kathleen knows better than to trust a ruthless scoundrel like Devon. But the fiery attraction between them is impossible to deny—and from the first moment Devon holds her in his arms, he vows to do whatever it takes to possess her. As Kathleen finds herself yielding to his skillfully erotic seduction, only one question remains:
Can she keep from surrendering her heart to the most dangerous man she's ever known?
♥♥♥♥♥♥
Lorraine Heath never disappoints and I'm looking forward to reading this new series.
Source: Purchased from Amazon Kindle
(The Hellions of Havisham, #1)
Genre: Historical Romance (Victorian)
Cover Blurb:
In the first in a dazzling new series, New York Times bestselling author Lorraine Heath introduces the Hellions of Havisham—three charismatic rogues destined to lose their hearts…
After six unsuccessful Seasons, Miss Minerva Dodger chooses spinsterhood over fortune-hungry suitors. But thanks to the Nightingale Club, she can at least enjoy one night of pleasure. At that notorious establishment, ladies don masks before choosing a lover. The sinfully handsome Duke of Ashebury is more than willing to satisfy the secretive lady's desires—and draws Minerva into an exquisite, increasingly intimate affair.
A man of remarkable talents, Ashe soon deduces that his bedmate is the unconventional Miss Dodger. Intrigued by her wit and daring, he sets out to woo her in earnest. Yet Minerva refuses to trust him. How to court a woman he has already thoroughly seduced? And how to prove that the passion unleashed in darkness is only the beginning of a lifetime's pleasure?
♥♥♥♥♥♥