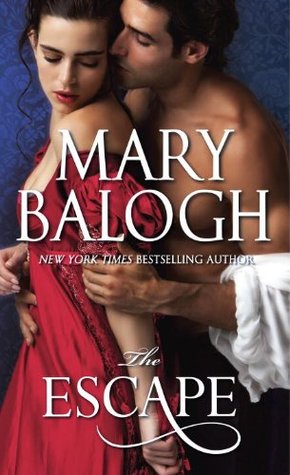 (The Survivors' Club, #3)
Genre: Historical Romance (Regency)
Cover Blurb:
Six years after being severely wounded in the Peninsular Wars as a cavalry officer, and three years after leaving Penderris Hall in Cornwall, where he had stayed with his fellow Survivors during his long road to recovery, Ben finally admits to himself that he will never be able to walk properly again or resume his old way of life. But he feels adrift. Although he is a wealthy man and owns a profitable estate, his brother has been running it for him with great efficiency and Ben cannot summon the will to oust his brother and family. The trouble is, though, he does not know what else he is going to do with his life. He decides to spend some time with his married sister in the north of England while he makes some plans and decisions.Samantha McKay is a recent widow. Her husband died after suffering for several years from battle wounds, and she is feeling drained and empty, for he would allow no one to nurse him but her and he was a demanding patient. It does not help that her sister-in-law has recently come to live with her and has very strict ideas on what is proper—and improper—for a widow to do. And the sister-in-law is fully backed by her autocratic father, who lives far away in the south of England but who nevertheless owns the house in which Samantha lives.
Ben and Samantha meet for the first time when he is out riding and jumps a hedge, narrowly missing coming down on top of her after she and her dog have left the confines of her own park, unknown to her sister-in-law. It is not an auspicious beginning to their relationship, though later they forge something of a friendship, cut short when Ben fears to embroil her in gossip and possible scandal. But her father-in-law judges her unfit to live without male supervision anyway and summons her south to live with him. Samantha chooses rather to escape to Wales, where she owns a dilapidated hovel of a cottage left her by her mother, though she has never seen it. Ben, the only one in whom she confides plans, insists upon escorting her there. And so they escape together into a new world and a new life with new discoveries and challenges and possibilities—and new temptations.
♥♥♥♥♥♥
What a fabulous, classy storyteller Mary Balogh is. She never disappoints and her story lines are original, interesting and captivating. This particular series is so addictive;  six men and one woman, all affected in some devastating way by participation or connection with the Napoleonic war.
This is the third in the series and Ms. Balogh has cleverly reminded us of the involvement of the others without boring, long winded explanations. There are quite long periods between publication of each of The Survivor's stories and she tells us just enough to remind us of the surrounding circumstances.
This is Major Sir Benedict Harper's story. Having suffered debilitating injuries, mainly to his legs, he is determined to walk and make a life for himself outside of the Army which was his love. What to do to utilise his military skills is the question. Benedict (Ben) has mastered horse riding again and, whilst out riding on his sister's estate, he jumps a high hedge unaware of the heavily veiled, black clothed widow sitting on the ground on the other side. Antagonistic towards each other to begin with, Ben's innate good manners drive him to make his apologies and he discovers the lovely young woman beneath the widow's weeds.
Ben becomes embroiled in Samantha McKay's troubles and , after their second meeting, the rapport between them is instantaneous and develops into an attraction that escalates over the coming months. Married at 17 to a dashing Military man, Samantha ends up nursing her complaining, demanding husband after he suffers life threatening injuries in the same war. Finally widowed after 6 years of nursing, she craves freedom and 'escape', especially from her autocratic and aristocratic in laws. Samantha decides to make her escape to Wales where she has been willed a cottage by a maiden aunt, which, as far as she knows, could be in ruins. Anything is better than the life she is now living. Honourable Ben offers his services as her escort to the wilds of South Wales.
These two characters are utterly wonderful. Honourable, charismatic and brave, Ben's injuries only add rather than detract from his attraction. Warm, vital, and vivacious, Samantha, a breath of fresh air to Ben, sees the man beyond the crippled legs.
Mary Balogh is a native of Wales and it shows…I know Tenby and her wonderful description of the place and people transports me to a place I love. There are no bored, aristocratic rakes or mention of Regency ballrooms. The only ball is a Christmas gathering of all the local people – mistletoe, a waltz – totally heart-warming.
Written in Ms. Balogh's usual fluent, original writing style, I enjoyed this wonderful, witty tale so much.  A well-earned  5 stars.
REVIEW RATING: 5/5 STARS
SENSUALITY RATING: WARM
♥♥♥♥♥♥
(The Survivors' Club #4)
Genre: Historical Romance (Regency)
Cover Blurb:
The Survivors' Club: Six men and one woman, all wounded in the Napoleonic Wars, their friendship forged during their recovery at Penderris Hall in Cornwall. Now, in the fourth novel of the Survivors' Club series, Flavian, Viscount Ponsonby, has left this refuge to find his own salvation—in the love of a most unsuspecting woman…
Flavian, Viscount Ponsonby, was devastated by his fiancée's desertion after his return home. Now the woman who broke his heart is back—and everyone is eager to revive their engagement. Except Flavian, who, in a panic, runs straight into the arms of a most sensible yet enchanting young woman.
Agnes Keeping has never been in love—and never wishes to be. But then she meets the charismatic Flavian, and suddenly Agnes falls so foolishly and so deeply that she agrees to his impetuous proposal of marriage.
When Agnes discovers that the proposal is only to avenge his former love, she's determined to flee. But Flavian has no intention of letting his new bride go, especially now that he too has fallen so passionately and so unexpectedly in love.
♥♥♥♥♥♥
This series just gets better and ONLY ENCHANTING is another winner. Mary Balogh's years of experience show, but instead of running out of ideas, her novels just get richer, more empathetic and entrancing. How has she managed to come up with the diversity shown in this series alone? Each story is different; each character endearing, charismatic and loveable and definitely worthy of his (the men so far) happy ever after.
This is Flavian, Viscount Ponsonby's story. Rich, bored, cynical and handsome, he is nevertheless a very unhappy and unfulfilled man. Enter plain…at least on first sight…Agnes Keeping, widowed and virtuous. She believes passion and love have no place in marriage. In spite of this, at the ball given by her friend Sophia, wife of Vincent, Lord Darleigh, a fellow survivor, she is completely captivated by Flavian after dancing with him on two occasions. Flavian, on the other hand, prepares himself to be charming but bored. Instead he finds himself enchanted by this no frills, sweet, young widow with a sense of humour and no guile.
Flavian has suffered devastating injuries in the Napoleonic wars and is rescued in the nick of time and carried off to the home of George, Duke of Stanbrook, in Cornwall. Here his terrible head injuries can heal in the company of others with horrific injuries of their own. Supporting each other through the healing process, The Survivors Club becomes the salvation for all seven members. However, they cannot save each other once they finally face the world again, forever changed to their families and loved ones. Flavian's life threatening head wounds have healed, at least on the outside. He still suffers from memory loss, severe headaches and temper outbursts brought on by frustration at his inability to remember huge chunks hovering just out of range, tantalisingly close. He knows something devastating happened, but can't catch it from his subconscious. It is all somehow wrapped up with his ex-fiancé Velma, who ended their betrothal on his return from the wars, to all intents and purposes a madman. Now that he is, at least on the surface, recovered, Velma would like to resume their relationship as she is recently widowed. Both her parents and his family support the match but Flavian has other ideas.
Mrs Agnes Keeping is the object of Flavian's attention. He can't explain to himself why he must marry her, he just knows she makes him feel safe. Eventually he wears down her misgivings and they marry by special license. Agnes is, against her better judgement, madly and deeply in love with Flavian and they enjoy a close and loving relationship until she discovers his previous relationship and feels he has married her simply to wreak revenge on his ex-fiancé Velma. Her gut reaction is to leave him but Flavian has discovered that Agnes is much more to him than 'safe' and does all in his power to keep her by his side.
Agnes decides to stay and her love and care slowly help Flavian to unlock the secrets of his mind. He in turn helps her to face her own demons; those same demons that insist that passion has no place in marriage.
Mary Balough has crafted another fabulous page turner from her talented pen. The other characters of the Survivors Club are in attendance, though slowly finding peace and love. I'd love to see George settle down. He is the saviour of this group of damaged human beings, offering them help and refuge, and should definitely find his own HEA. I do hope it will be Agnes's elder sister Dora who captures George's heart.
Again for pure entertainment value and originality, a resounding 5 stars.
REVIEW RATING: 5 /5 STARS
SENSUALITY RATING: WARM

The Survivors' Club series (click on the book covers for more details):