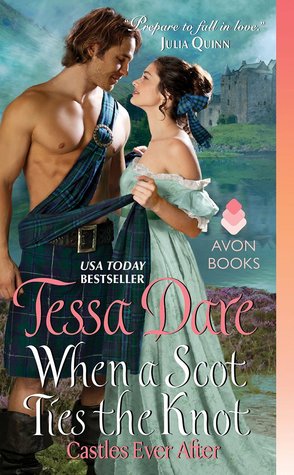 (Castles Ever After, #3)
Genre: Historical Romance (Regency)
Cover Blurb:
On the cusp of her first London season, Miss Madeline Gracechurch was shyly pretty and talented with a drawing pencil, but hopelessly awkward with gentlemen. She was certain to be a dismal failure on the London marriage mart. So Maddie did what generations of shy, awkward young ladies have done: she invented a sweetheart.
A Scottish sweetheart. One who was handsome and honorable and devoted to her, but conveniently never around. Maddie poured her heart into writing the imaginary Captain MacKenzie letter after letter … and by pretending to be devastated when he was (not really) killed in battle, she managed to avoid the pressures of London society entirely.
Until years later, when this kilted Highland lover of her imaginings shows up in the flesh. The real Captain Logan MacKenzie arrives on her doorstep—handsome as anything, but not entirely honorable. He's wounded, jaded, in possession of her letters… and ready to make good on every promise Maddie never expected to keep.
♥♥♥♥♥♥
Once again, Tessa Dare enchanted me with a magical story, endearing, unforgettable characters, delightful humour and witty, sparkling dialogue.
Maddie is one of those quirky, unconventional heroines that Tessa Dare excels in writing (and only a Tessa Dare heroine could be studying the mating habits of a pair of lobsters called Rex and Fluffy!). As a young girl of sixteen, Maddie is painfully shy and a terrifying childhood experience has left her suffering from anxiety attacks when in the midst of crowds.
In any large gathering— be it a market, a theater, a ballroom— she had a tendency to freeze, almost literally. An arctic sense of terror took hold of her, and the crush of bodies rendered her solid and stupid as a block of ice.
With Maddie's first season approaching and her stepmother pointedly suggesting that she might find herself a suitable gentleman to marry, Maddie panics and blurts that she has already met him. So starts "an outrageous falsehood that would, for better and worse, determine the rest of her life". I loved the letters Maddie writes to her fictitious sweetheart because they not only act as a clever plot device but also provide an insight into Maddie's character. They also contain some delightful humour as evidenced here.
Dear Captain Imaginary MacFigment,
O happy day! Ring the bells, sound the trumpets. Swab the floors with lemon oil. My father's bride is vomiting profusely every morning, and most every afternoon, as well. The signs are plain. A noisy, smelly, writhing thing will push its way into the world in some six or seven months' time.
After inheriting a castle in Scotland from her godfather and, with only her Aunt Thea as companion, Maddie is at last independent and able to pursue her budding career as a scientific illustrator. However, her world is about to be shattered when her killed-in-battle, fictitious captain turns up on her doorstep, very much alive.
Big, brawny, Logan stole my heart. I love how deeply he cares about his men and his determination to do anything within his power to help them rebuild their lives even if it means resorting to blackmail. His actions towards Maddie may not be honourable but his motives definitely are.
His gruff exterior hides a very lonely, disillusioned man and I like how Ms Dare gradually reveals his past; his abandonment as a child, the deprivations he suffered and the duplicity of the vicar who gave him a home. He grew up in a world devoid of love. His men are the only real family he has ever known and I could understand his belief that love is nothing but a lie people tell themselves.
The sweet, tender, poignant and deliciously sexy love story between Maddie and Logan is further enhanced by sparkling dialogue and hilariously funny scenes. One of my favourites scenes is where Maddie gets stuck in a bog.
"Relax," he said. "The ones who do perish, they die of the exposure or thirst. Not because they're sucked under."
"So you're saying . . ."
"You'll be fine. We'll build a little roof over your head and bring you bannocks twice a day. You can live here quite happily for years."
Another of my favourites is when Logan is forced to read aloud the excruciatingly terrible poem he is supposed to have written to Maddie. It's priceless.
It tugged at my heartstrings when Logan reveals just how much Maddie's letters meant to him.
"It felt as if I'd tugged on a loose thread of God's tartan, and a world away, someone tugged back".
I love how Maggie gives Logan the love and family he has always secretly yearned for and Logan encourages Maddie to follow her dreams.
There is a wonderful cast of secondary characters including Logan's men, each with their own distinct personalities, Maddie's delightful Aunt Thea and, of course, not forgetting Rex and Fluffy.
I can't end my review without mentioning the Epilogue… just lovely!
MY VERDICT: Tessa Dare continues to captivate me with her wonderful writing, heart-warming stories, endearing characters and sparkling humour.
REVIEW RATING: 5/5 STARS
SENSUALITY RATING: HOT
Read August 2015

Castles Ever After series so far (click on the cover for more details):