Tessa Dare is one of my favourite authors and I always have to read her books as soon as they are released.   Personally, I don't think she can surpass her "Spindle Cove" series but this series comes a very close second.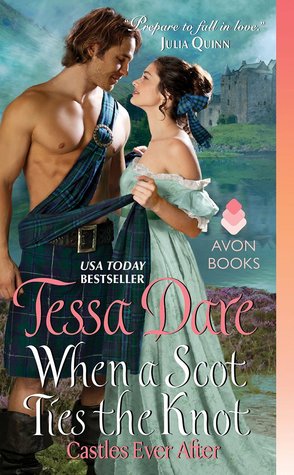 (Castles Ever After, #3)
Genre: Historical Romance (Regency)
Cover Blurb:
On the cusp of her first London season, Miss Madeline Gracechurch was shyly pretty and talented with a drawing pencil, but hopelessly awkward with gentlemen. She was certain to be a dismal failure on the London marriage mart. So Maddie did what generations of shy, awkward young ladies have done: she invented a sweetheart.
A Scottish sweetheart. One who was handsome and honorable and devoted to her, but conveniently never around. Maddie poured her heart into writing the imaginary Captain MacKenzie letter after letter … and by pretending to be devastated when he was (not really) killed in battle, she managed to avoid the pressures of London society entirely.
Until years later, when this kilted Highland lover of her imaginings shows up in the flesh. The real Captain Logan MacKenzie arrives on her doorstep—handsome as anything, but not entirely honorable. He's wounded, jaded, in possession of her letters… and ready to make good on every promise Maddie never expected to keep.
♥♥♥♥♥♥