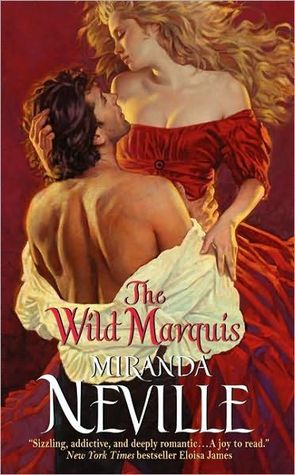 (The Burgundy Club, #1)
Genre: Historical Romance (Regency)
Cover Blurb:
The Marquis of Chase is not a reputable man.
He is notorious for his wretched morals and is never received in respectable houses. The ladies of the ton would never allow him in their drawing rooms . . . though they were more than willing to welcome him into their bedchambers. Ejected from his father's house at the age of sixteen, he now lives a life of wanton pleasure. So what could the Marquis of Chase possibly want with Juliana Merton, a lovely, perfectly upstanding shopkeeper with a mysterious past?
A moment's indiscretion?
A night's passion?
Or a lifetime of love?
Even the wildest rakes have their weaknesses . . .
♥♥♥♥♥♥
I read this, my first book by Miranda Neville, on the recommendation of a friend and I wasn't disappointed. It was an extremely enjoyable mix of mystery and romance and the setting – the world of London's bibliophiles – was both original and fascinating. I'm sure that Ms Neville's experience of working in the rare books and manuscripts department of Sotheby's proved invaluable in providing authenticity to the story.
Cain (Chase's nickname) was thrown out of the house at the age of sixteen, accused by his late father of a terrible crime he did not commit. Left vulnerable and penniless in London, he was rescued and given shelter at Mrs. Rafferty's bordello by two kindly prostitutes. A social outcast, over the past eight years, he has lived a hedonistic lifestyle estranged from his mother and younger sister.
He is handsome, charming, witty and intelligent but, beneath that rakish mask, he is also a thoughtful and compassionate man. I love how he treats women, including Juliana, with consideration and respect and then there are his acts of generosity towards his former servants and prostitutes seeking help or sanctuary. I think Juliana's words sum up Cain's character perfectly.
"You are the kindest person I know," she said. "You protect women. You love your sister, your friends, even your mother. You possess uncommon intelligence and powers of perception. Without them I would never have found out about my parents. You are clever and witty and the best of companions. You have only to look at me with your beautiful eyes to make me want to make love to you."
Cain and Juliana share a common bond as Juliana's illegitimate birth makes her a social outcast too and she also knows the pain and loneliness of being exiled from the only home she has ever known. I admired the way she has made her own way in a world that offered women very little opportunity. Cain sees her hard work, intelligence and determination in contrast to his own idle and frivolous life and it spurs him to take up those responsibilities that come with his title that he has long neglected.
I felt so sad that Cain had not seen his family for so many years, particularly as it was obvious how much he adored his sister, Esther, and their meeting after so many years was such an emotional one.
He took her in his arms and hugged her, as he had the day his father dismissed him from the house. Just as he had then, he murmured comforting words, rubbed her back, and dried her tears.
I admired his determination to reform his character to secure guardianship of Esther. It was easy to feel Cain's pain at his mother's continued rejection of him.
"As my mother you have my respect and affection. I hope that one day you will be able to return them."
I liked how Cain and Juliana talked openly to each other and, when they consummated their relationship, their lovemaking wasn't perfect as in so many other books I've read. The lovemaking scene in the carriage is one of the most sensual and humorous I've read.
The story is filled with humour as well and one the funniest scenes is where Cain is trying to identify what a book cover is made from.
"Interesting texture," he said, stroking the worn cover. "A male beast, I believe, but not entirely virile. A rather shy badger? Am I right? Is it badger skin?"
"No."
"A bashful beaver? No?"
He rested his head on her chest, which was heaving with laughter, and appeared to be lost in deep thought. "I'm on the wrong track," he mused. "I know! It's a smaller animal but a strong one. A stout stoat? A rapacious rat? "
There are some colourful secondary characters, none more so than Cain's rather "unusual" housekeeper, Mrs Melisande Duchamp, who has no scruples about speaking her mind!
She emitted a crack of laughter. "Purview! That's a good one. Especially since it was me what taught you how to keep 'em in good order. Lusty little bastard you were. And is it within my purview to know why you're upsetting the household by calling for your breakfast at nine in the morning?"
There is also Quarto, Juliana's rather ineffective guard dog, who only seems to growl at Cain and has rather unfortunate sniffing habits when it comes to females!!
We are introduced to Sebastian Iverley and Tarquin Compton, two book collectors, who are future heroes of the series. I am particularly intrigued by the bespectacled, badly dressed Iverley who hates women and look forward to reading his downfall in book 2 of the series, The Dangerous Viscount.
The mystery element involving the truth surrounding Juliana's birth and the murder of her husband is neatly woven around but never overshadows the romance. There is quite a nail-biting climax but, as with all good romances, the villain is suitably dispatched allowing Cain and Juliana to have their HEA.
My Verdict: An extremely enjoyable story with an original setting, interesting characters and the perfect balance of mystery and romance.
REVIEW RATING: 4/5 STARS
SENSUALITY RATING: WARM
Read July 2015
Burgundy Club series (click on book cover for more details):