Source: ARC received from the author in return for an honest review.
Marguerite Kaye has has become of my  favourite authors since reading NEVER FORGET ME (My Review) and STRANGERS AT THE ALTAR (My Review). So I was thrilled when she asked me to review this book, the first of two full-length stories in her new Comrades in Arms series.
I love this gorgeous cover!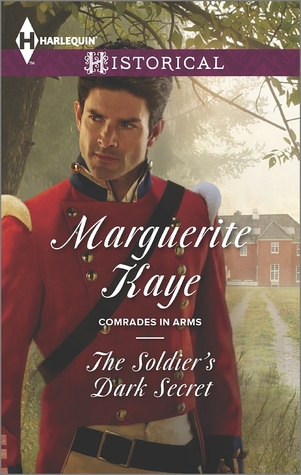 (Comrades in Arms, #1)
Genre: Historical Romance (Regency)
Cover Blurb:
The truth behind the hero Officer Jack Trestain may have been one of Wellington's most valued code-breakers, but since Waterloo, he's hung up his uniform. If only he could just as easily put aside the tortured memories he carries deep within; Perhaps enchanting French artist Celeste Marmion might be the distraction he so desperately craves?
Except Celeste harbors secrets of her own, and questions that she needs Jack's help to solve! With Celeste's every touch an exquisite temptation, how close can Jack get without revealing his darkest secret of all?
Comrades in Arms
War heroes, heartbreakers & husbands?
Expected date of Publication: 1 March 2015
♥♥♥♥♥♥
You can read an excerpt on Marguerite's website. Just follow this link:
http://www.margueritekaye.com/bookshelf-2/the-soldiers-dark-secret/tsds-excerpt/
There is also a prequel to this mini series, SEDUCED BY THE SOLDIER, which is a free on-line read on the Harlequin website. It is running in weekly instalments from January 5th through to February 23rd. Here is the link:
http://www.harlequin.com/articlepage.html?articleId=1968&chapter=1
Source: ARC received from the author in return for an honest review.
I think it was my lucky day today because I also received a copy of A SCOUNDREL BY MOONLIGHT, Book 4 in the Sons of Sin series by another of my favourite authors,  the fabulous Anna Campbell.
(Sons of Sin, #4)
Genre: Historical Romance (Regency)
Cover Blurb:
Anything can happen in the moonlight . . .
Justice. That's all Nell Trim wants-for her sister and for the countless other young women the Marquess of Leath has ruined with his wildly seductive ways. Now she has a bold plan to take him down . . . as long as she can resist the scoundrel's temptations herself.
From the moment Nell meets James Fairbrother, the air positively sizzles. Yet for all his size and power, there's something amazingly tender in his touch. Could he really be such a depraved rogue? The only way to find out is to beat the devil at his own game . . . one tempting kiss at a time.
Expected Date of Publication : 28 April 2015
♥♥♥♥♥♥
 I can highly recommend this series and if you would like to read my reviews of the other books in the series, here are the links:
SEVEN NIGHTS IN A ROGUE'S BED – My Review
A RAKE'S MIDNIGHT KISS – My Review
WHAT A DUKE DARES – My Review