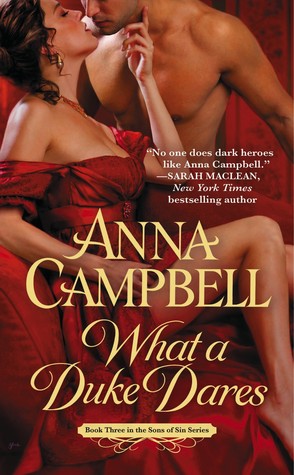 (Sons of Sin, #3)
Genre: Historical Romance (Regency)
Cover Blurb:
A REPUTATION AT RISK
What woman in her right mind would say no to marrying the dashing Duke of Sedgemoor? Miss Penelope Thorne, that's who. She's known Camden Rothermere since they were children-and she also knows she'd bring nothing but scandal to his name.
Cam can hardly believe Penelope turned down his proposal. But if she wants to run off to the Continent and set the rumor mill ablaze, he can't stop her. Then her brother's dying request sends him to bring home the one woman he thought he'd finally gotten over.
The only way they'll both get back to London without their reputations in tatters is to pretend they're married during the journey. That means kissing like they mean it and even sharing a bed-until it becomes hard to tell where the game ends and true desire begins . . .
♥♥♥♥♥♥
THIS IS HISTORICAL ROMANCE AT ITS BEST!
WHAT A DUKE DARES is the third book in the marvellous 'Sons of Sin' series and, once again, Anna Campbell delivers an emotive, romantic and passionate love story.
How I imagine Cam….
When Camden (Cam) Rothermere, heir to a dukedom, proposes to his childhood friend, Penelope Thorne, he can't believe his ears when she turns him down. Even his declaration that he esteems and admires her and enjoys her company does nothing to persuade her to change her mind. She refuses to marry for anything but love. Cam has seen first-hand the devastating effect love had on his parents:
"As a result of love, my father descended into cruelty and obsession and my mother became a byword for promiscuity."
and it has no place in his life now or ever.
How I imagine Pen
Penelope (Pen) Thorne has loved her childhood friend, Camden Rothermere for as long as she can remember and, when he proposes, it should be the happiest day of her life…a girlish fantasy come true. The reality is very different because she knows that Cam can never give her the one thing she desires…his heart. If he truly loved her, she'd even be willing to curb her impulsive and headstrong ways to become the wife he needs…someone dignified and above reproach…someone to help him restore respectability to the scandal-ridden Rothermere name.
So they go their separate ways.
In the intervening nine years, Cam is now the powerful Duke of Sedgemoor, renowned for his cold demeanour, self-assurance and his iron control, devoting his life to restoring the family's good name. Pen had fled England to travel the continent with her eccentric aunt and Cam was well aware of all her amorous intrigues over the years.
When he receives an urgent summons from his friend, Pen's brother, Peter, Cam travels to Calais to find his friend with very little time to live and fearful for his sister's safety. Cam is honour bound to fulfil the dying Peter's request that Cam find her and bring her home to England.
Ms Campbell took me on an enthralling and emotional roller-coaster of a journey before Cam and Pen finally attain their hard-earned Happy Ever After. I enjoyed every moment…the antagonism and the simmering sexual tension; the temptation and the heady passion; the stark danger and the anguish; the scandal and the poignant emotions, the betrayal and the heartbreak; the tenderness and the enduring love.
I enjoyed the secondary romance between Pen's brother, Harry and Sophie, the sister of Cam's enemy, James Fairbrother, Marquess of Leath. Their sweet, tender romance forms a contrast to the hot, passionate one between Cam and Pen. It also precipitates events that cause Cam to finally admit his love for Pen.
The Marquess of Leath obviously loves his sister very much which was a point in his favour and, once he and Cam had settled their differences, I liked him even more. I look forward to reading his story in the next book in the series.
Jonas and Sidonie (Seven Nights in a Rogue's Bed) and Richard and Genevieve (A Rake's Midnight Kiss) all make an appearance and I love the banter between Cam, Richard and Jonas.
Call me a sentimental old fool but I love a good Epilogue and Ms Campbell made me go all misty-eyed when Cam gives Pen her special Christmas present.
Some Memorable Moments
"What in heaven's name brought you to choose this hovel?"
One slender hand brushed her tumble of hair back from her face. To his dismay, he saw she was shaking.
"Try the weather." Her tone was sharper than his sword. "I know you could barge through an avalanche without creasing your neckcloth, but we lesser mortals must seek shelter when snow blocks the roads."
♥♥♥
For a second that extended into eternity, they regarded one another. He should leave. He had no right to absorb every glorious, forbidden detail and imprint it on his mind to remember forever.
♥♥♥
He'd burned to wrench his wife from her chair and muss her neat perfection. Then fling her across the polished table and do things likely to make the butler resign.
♥♥♥
" Anyway, you know that even if you were off your head with opium or inclined to slobber into your dinner, chits would still line up for the duchess's coronet."
♥♥♥
THIS IS CLASSIC ANNA CAMPBELL – COMPELLING, EMOTIVE, ROMANTIC AND SENSUAL!
REVIEW RATING: 5/5 STARS
SENSUALITY RATING: HOT!
My sincere thanks to Anna Campbell for sending me a complimentary copy of this book  in return for an honest review.
The Sons of Sin series so far (click the covers for more details):