I'm thrilled to welcome the fabulous Anna Campbell to Rakes and Rascals today to delight readers with 5 Fun Facts about her new release WHAT A DUKE DARES, the third book in the Sons of Sin series.
Hi Carol! Thanks so much for having me as your guest today on Rakes and Rascals to talk about my new release WHAT A DUKE DARES which is out in Australia and North America today and in the U.K. in late October.
I loved writing this story – Cam and Pen are characters who lived with me for a long time so I was extremely happy to give them their happy ending. And there's something fun about writing a duke, given his role as the historical king of the beasts!
So I thought today, I'd give you five fun facts about my latest release.
Fun Fact 1
This is book three in my Sons of Sin series (the other two are SEVEN NIGHTS IN A ROGUE'S BED and A RAKE'S MIDNIGHT KISS). My duke in the title is Camden Rothermere, the Duke of Sedgemoor. If you've read the other books, you know that Cam is Mr. Cool, the guy who always knows exactly what to do, the man who observes his friends love affairs with a slightly sardonic amusement. For me as both reader and writer, it's so enjoyable to pull the rug out from under the man who thinks he's got life sorted out and send him on a wild trip to chaos when he falls in love. For this particular author, seeing Cam battle with the unexpected power of his emotions was great fun.
Fun Fact 2
If any of you are regulars on my Facebook page (https://www.facebook.com/AnnaCampbellFans?ref=br_rs), you'll notice people referring to my very dignified – well, at least he is at the start – duke as the DUDE! This stems from a horrible typo I discovered on one of my rounds of edits and which I shared because it cracked me up. Lord Hillbrook's very haughty butler announces Cam as the Dude of Sedgemoor. I'm sure there's a sequel on the way where Cam hangs 10 and says cowabunga every time he opens his mouth!
Fun Fact 3
Penelope Thorne, the heroine and Cam's childhood bugbear, has spent the last nine years wandering around Europe in the company of an independent-minded aunt. Intrepid female travelers weren't unknown in the Georgian era and the Regency so Pen's scandalous adventures are based in fact. Women like Mary Wollstonecraft and Lady Mary Wortley Montague ranged far and wide, often through war zones. Mary Wollstonecraft, the mother of feminism, got as far as Sweden after living through the worst of the French Revolution, and Lady Mary Wortley Montague spent years in Turkey and wrote some terrifically entertaining reminiscences of her travels. A really enjoyable book about these brave, interesting women is LADIES OF THE GRAND TOUR by Brian Dolan.

Mary Wollstonecraft
Fun Fact 4
I've always loved the poem TARANTELLA by Hilaire Belloc (you can find it in full here: http://www.poemhunter.com/poem/tarantella/). WHAT A DUKE DARES starts out as a road trip romance (most of it is set in London high society but it begins with a trip over the Italian Alps).
When I was writing the flea-bitten hostelries where our hero and heroine are forced to find shelter, I kept remembering these lines.
Do you remember an Inn,
Miranda?
Do you remember an Inn?
Of the straw for the bedding,
And fleas that tease in the High Pyrenees,
And the wine that tasted of tar?
As you can imagine, Cam is used to much better accommodations! The ratty inns gave me plenty of opportunities to write snappy dialogue between my hero and heroine. Always a fun bonus!
Fun Fact 5
Sometimes it's not what you know, it's WHO you know! There's a very eventful boat trip that results in scandal and a marriage of convenience. The problem is I'm not a sailor. Luckily, I have a very good friend, Australian author Helene Young (www.heleneyoung.com) who lives on a yacht. I set Helene the task of plotting the journey from Genoa to England and she came up trumps!
So let's talk boat trips. Are you a sailor? Have you been on a long ocean voyage? If not, would you like to go on one? If so, where? I've got a signed print copy of WHAT A DUKE DARES for one commentor (open internationally) today so good luck!
♥♥♥♥♥♥♥♥♥♥♥♥♥♥♥♥♥♥♥♥♥♥♥♥♥♥♥♥♥♥♥♥♥♥♥♥♥♥♥♥♥♥♥♥♥♥♥♥♥♥♥♥♥♥♥♥♥♥♥♥♥♥♥♥
About WHAT A DUKE DARES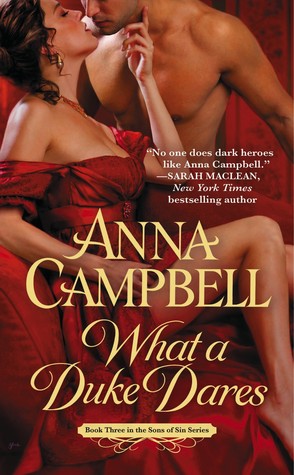 (Sons of Sin #3)
Genre: Historical Romance (Regency)
Cover Blurb
A REPUTATION AT RISK
What woman in her right mind would say no to marrying the dashing Duke of Sedgemoor? Miss Penelope Thorne, that's who. She's known Camden Rothermere since they were children-and she also knows she'd bring nothing but scandal to his name.
Cam can hardly believe Penelope turned down his proposal. But if she wants to run off to the Continent and set the rumor mill ablaze, he can't stop her. Then her brother's dying request sends him to bring home the one woman he thought he'd finally gotten over.
The only way they'll both get back to London without their reputations in tatters is to pretend they're married during the journey. That means kissing like they mean it and even sharing a bed-until it becomes hard to tell where the game ends and true desire begins . . .
Buy Links:
Amazon: http://www.amazon.com/What-Duke-Dares-Anna-Campbell/dp/1455557900/ref=sr_1_cc_1?s=aps&ie=UTF8&qid=1387328558&sr=1-1-catcorr&keywords=what+a+duke+dares
Barnes and Noble: http://www.barnesandnoble.com/w/what-a-duke-dares-anna-campbell/1117543455?ean=9781455557905
The Book Depository: http://www.bookdepository.com/What-Duke-Dares-Anna-Campbell/9781455557905
♥♥♥♥♥♥♥♥♥♥♥♥♥♥♥♥♥♥♥♥♥♥♥♥♥♥♥♥♥♥♥♥♥♥♥♥♥♥♥♥♥♥♥♥♥♥♥♥♥♥♥♥♥♥♥♥♥♥♥♥♥♥♥♥
Meet ANNA CAMPBELL
ANNA CAMPBELL has written nine multi award-winning historical romances for Grand Central Publishing and Avon HarperCollins and her work is published in sixteen languages. Anna has won numerous awards for her Regency-set stories including Romantic Times Reviewers Choice, the Booksellers Best, the Golden Quill (three times), the Heart of Excellence (twice), the Aspen Gold (twice) and the Australian Romance Readers Association's favorite historical romance (five times). Anna is currently engaged in writing the "Sons of Sin" series, which started in 2012 with SEVEN NIGHTS IN A ROGUE'S BED and now continues with book 3, WHAT A DUKE DARES. Anna lives on the beautiful east coast of Australia where she writes full-time.
You can find Anna online at:
Website: www.annacampbell.info
Facebook: https://www.facebook.com/AnnaCampbellFans?ref=br_rs
Twitter: @AnnaCampbellOz
GoodReads: https://www.goodreads.com/author/show/296477.Anna_Campbell
Anna,  thank you so much for taking the time out to be my guest on Rakes and Rascals and brightening our day with your fun facts about WHAT A DUKE DARES.
♥♥♥♥♥♥♥♥♥♥♥♥♥♥♥♥♥♥♥♥♥♥♥♥♥♥♥♥♥♥♥♥♥♥♥♥♥♥♥♥♥♥♥♥♥♥♥♥♥♥♥♥♥♥♥♥♥♥♥♥♥♥♥♥
THIS GIVEAWAY IS NOW CLOSED
DON'T FORGET TO ANSWER ANNA'S QUESTION FOR THE CHANCE TO WIN A SIGNED COPY OF WHAT A DUKE DARES.
THE GIVEAWAY WILL RUN FROM 26th AUGUST UNTIL  MIDNIGHT (GMT) ON 2nd SEPTEMBER AND THE WINNER WILL BE ANNOUNCED ON THE 3rd SEPTEMBER.